The European Summit of Regions and Cities is a gathering of local representatives organised every half mandate by the European Committee of the Region to discuss the EU's future challenges. Regions and cities are key contributors to the European project and play an essential role in placing citizens at the heart of Europe. The 9th Summit is organised within the framework of the French Presidency of the European Union.
Dr Stamm facilitates the plenary session "Cohesion and Recovery" with Elisa Ferreira, European Commissioner for Cohesion and Reforms, Jacqueline Gourault, French Minister for Territorial Cohesion and Relations with Local and Regional Authorities, Younous Omarjee, Member of the European Parliament and Chair of the REGI Committee, Vasco Alves Cordeiro, First Vice-President of the European Committee of the Regions, Stefano Bonaccini, President of the Council of European Municipalities and Regions and Emil Boc, Mayor of Cluj-Napoca. She also moderates the Round Tables "Anticipating, preventing, adapting - Territories and Climate Change" and "A Renewed Mediterranean Partnership".
(Photos by European Committee of the Regions & Verena Ringler)
---
The paper, co-authored by Julia Stamm, Ramona Liberoff, Francisco Santolo, Jenny Shirar, Leehe Skuler and Aditya Singh, offers actionable steps for how we can adapt society, education, business and finance to meet the world's urgent challenges.

https://medium.com/@julia.stamm_TFP/sdgs-innovation-and-impact-connecting-the-dots-37782c603ce7
---
Julia receives the award for her work with TFP - THE FUTURES PROJECT. TFP is a global initiative to ensure that innovation and technology serve the real and future needs of people and planet. Its vision is to build better futures by fostering systemic change through innovation and technology that serve the real and future needs of people and planet.
---
With everything going on in the world, we can lose sight of the big picture. Every business and organization wants us to focus on their selective issue, but we're not usually getting the full story. The truth is that most of these global issues are interconnected. Now might be the time to take a step back and reevaluate how we approach the issues of today and the future.
This is Dr. Julia Stamm's perspective, a renowned leader and advocate for the future. Her initiative, The Futures Project (TFP), takes a much broader look at how our greatest problems should be faced. She has worked firsthand with organizations like the European Commission and G20, and now focuses on putting that experience into her own work. Want to know her plan for the future?
On this episode of Next Wave Leadership, Dov Pollack talks with Dr. Julia Stamm, the Founder and CEO of The Futures Project (TFP), about her organization and their vision for the future. They go over a range of topics, such as the need for interdisciplinary thought, what innovation looks like, and focusing on diversity. They also talk about Dr. Stamm's career and her unique vision for cooperation between organizations. Stay tuned to hear all of this and more!
https://nextwaveleadership.com/dr-julia-stamm-on-running-the-g20-think-20-summit-on-global-solutions-working-to-create-world-wide-change-and-why-the-future-is-interdisciplinary/
---
Just two days before Germany's federal election, Dr Stamm facilitated the workshop on digitization, democracy and the role of cities during the BMW Foundation's Responsible Leaders Dialogue "Download Democracy: Regaining Public Trust in Digitalization". Together with an outstanding group of participants, we covered a lot of ground, from the need to co-create new narratives, to fostering creativity and courage in bureaucracy and administration, to redefining what it means to be a citizen in the 21st century. We also looked into the skills required for political leaders and the necessity to reevaluate the role of governments vs. companies. And we agreed that digitization is just one part of the transformation to more inclusive societies.
Photos copyright BMW Foundation Herbert Quandt
---
As a policymaker, Dr. Stamm reflects on what it takes to replace short-term focus with an appreciation of the big picture. Her extensive experience in national and international academic institutions and international organizations gives her a unique perspective on where gaps in perception and action intersect.
https://shows.acast.com/insight-to-action-inspirational-insights-podcast/episodes/futures-project-julia-stamm
---
Led by the Centre for Policy Futures, University of Queensland , Australia, Professor Karen Hussey, Dr Claire Brolan, A/Professor Peter Hill, A/Professor Damian Hine, Dr Julia Stamm and Dr Owain Williams are working with The Pacific Community (SPC) on two key pieces of research.
The first is a review and evaluation of the emerging literature and best-practice thinking about the optimal form and function of intergovernmental scientific organisations. The second project focuses on how to optimise th SPC's role as a provider of strategic science and game changing through leadership. The findings of both studues will support the development of robust research across the 26 member states of The Pacific Community.
https://www.vision6.com.au/v/39308/1534125/email.html?k=KW7WskF_MbJPA1VP71-5z2OdDltpLPQtWE2WdgaF4qI
---
Stefan Kuhlmann (University of Twente), Dagmar Simon, Weert Canzler (both WZB, Berlin) and Julia Stamm (SCIENCE LEADS) have edited a Handbook on Science and Public Policy.
The handbook assembles state-of-the-art insights into the co-evolutionary and precarious relations between science and public policy. Beyond this, it also offers a fresh outlook on emerging challenges for science (including technology and innovation) in changing societies, and related policy requirements, as well as the challenges for public policy in view of science-driven economic, societal, and cultural changes. In short, this book deals with science as a policy-triggered project as well as public policy as a science-driven venture.
The "Introduction Science and public policy – relations in flux" can be downloaded here:
https://www.elgaronline.com/view/edcoll/9781784715939/9781784715939.00007.xml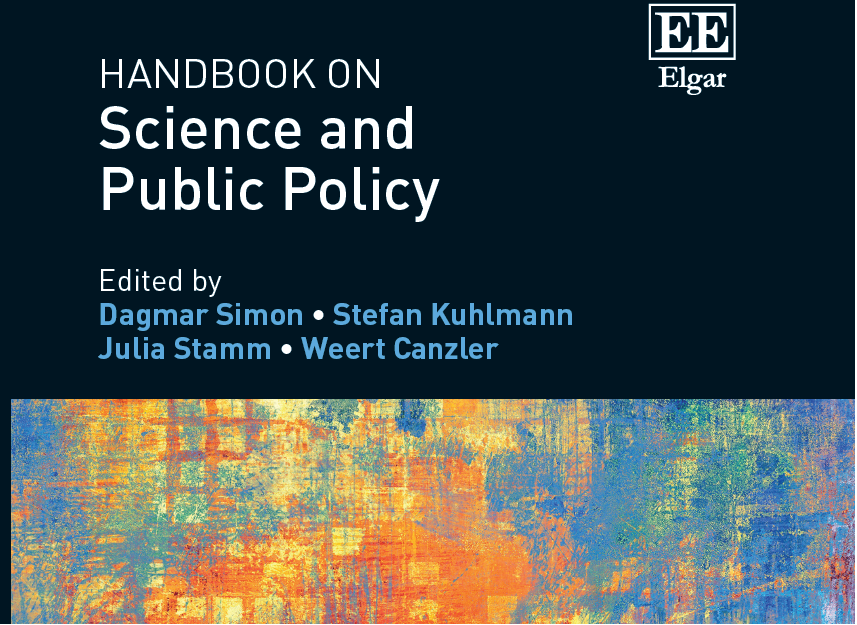 ---
---