---
The support of basic research and disruptive innovation are often regarded as two distinct political approaches widely separated from each other. It can seem as if there is a divide between the freedom of research without a clear impact and the demand for clear results from research projects and their benefits for industry or our society. With the European Research Council (ERC), the European Union has already established an internationally recognised support for excellent basic research. The recently introduced European Innovation Council (EIC) is designed to fill the existing innovation gap in the EU by taking excellent research to the market. Both the EIC and the ERC play a decisive role in the innovation chain. An ambitious and competitive research system cannot function effectively without one or the other. As one of Europe's innovation champions, Baden-Württemberg could be a blueprint for an effective collaboration between the EIC and the ERC.
Dr Stamm moderated a discussion between Jean-Pierre Bourguignon, outgoing President of the European Research Council, and Jean-David Malo, Director of the European Innovation Council Task Force.
---
"I feel it is time to write some words about women in politics and positions of power in the European Union.
After a rather long drought period, we see women enter with force the top level of EU jobs. Ursula von der Leyen as Commission President Elect, Christine Lagarde as future President of the European Central Bank, Margrethe Vestager as powerful Executive Vice-President of the European Commission and possibly Kristalina Georgieva to succeed Christine Lagarde at the helm of the International Monetary Fund.
On Tuesday 10 September, von der Leyen, the first woman ever to lead the European Commission, put forward her choices for Commission portfolios. The von der Leyen team has historic and almost perfect gender balance, with women holding 13 of 27 positions.
So what does this mean in terms of the future policy development of the European Union?"
Read Dr Julia Stamm's blog on "Women in Politics in Europe - finally a big leap forward":
https://www.emerald-advisors.eu/women-in-politics-in-europe-finally-a-big-leap-forward/
---
Led by the Centre for Policy Futures, University of Queensland , Australia, Professor Karen Hussey, Dr Claire Brolan, A/Professor Peter Hill, A/Professor Damian Hine, Dr Julia Stamm and Dr Owain Williams are working with The Pacific Community (SPC) on two key pieces of research.
The first is a review and evaluation of the emerging literature and best-practice thinking about the optimal form and function of intergovernmental scientific organisations. The second project focuses on how to optimise th SPC's role as a provider of strategic science and game changing through leadership. The findings of both studues will support the development of robust research across the 26 member states of The Pacific Community.
https://www.vision6.com.au/v/39308/1534125/email.html?k=KW7WskF_MbJPA1VP71-5z2OdDltpLPQtWE2WdgaF4qI
---
Stefan Kuhlmann (University of Twente), Dagmar Simon, Weert Canzler (both WZB, Berlin) and Julia Stamm (SCIENCE LEADS) have edited a Handbook on Science and Public Policy.
The handbook assembles state-of-the-art insights into the co-evolutionary and precarious relations between science and public policy. Beyond this, it also offers a fresh outlook on emerging challenges for science (including technology and innovation) in changing societies, and related policy requirements, as well as the challenges for public policy in view of science-driven economic, societal, and cultural changes. In short, this book deals with science as a policy-triggered project as well as public policy as a science-driven venture.
The "Introduction Science and public policy – relations in flux" can be downloaded here:
https://www.elgaronline.com/view/edcoll/9781784715939/9781784715939.00007.xml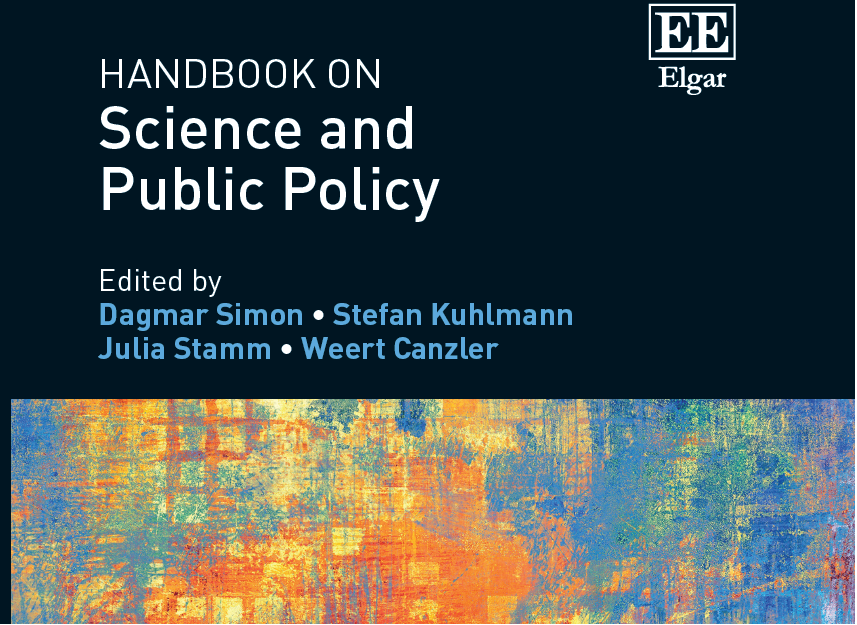 ---
It was a great pleasure and honour to speak at the recent Horasis Global Meeting in Cascais, Portugal. Our expert panel, chaired by Anthony Cuthbertson, The Independent, was dedicated to Breakthrough Technologies of the Future. The discussion focused on future technological innovations and ultimately stressed that a human-centered approach has to be at the very core of all technology development.
---
Co-edited by Stefan Kuhlmann (University of Twente), Weert Canzler and Dagmar Simon (both WZB Social Research Center Berlin) and Julia Stamm (SCIENCE LEADS), the Handbook on Science and Public Policy - Relations in Flux" will be published in late spring with Edward Elgar Publishing.
The handbook focuses on how science policy has changed over the last decades and raises several overarching questions: What are the consequences of changing science policies for science and the science system nationally and internationally) How far do they go? Do they tackle the fundamental principles of science, its norms, standards and reputation systems? And what does this mean for modern science (and technology)? The 26 chapters of the handbook provide different answers from a broad range of theoretical and conceptual perspectives.

See here for further details such as contributors and contents: https://www.e-elgar.com/shop/handbook-on-science-and-public-policy
---
Horasis is a Global Visions Community, dedicated to inspiring our future. The next Horasis Global Meeting will take place in Cascais from 6-9 April. The event promises to be the most impactful global meeting of business and political leaders of the year – more than 800 speakers including several heads of government and ministers confirmed so far will.
Dr Stamm will discuss "Breakthrough Technologies of the Future", together with a distinguished panel of experts.
For more information on Horasis: https://horasis.org/
---
When it opens in 2020, the Deutsches Museum Nuremberg, the future branch museum of Deutsches Museum Munich, will present cutting-edge projects from today's researchers that may impact our lives in the future. The museum will engage visitors in discussions on the opportunities presented by various technologies – but also on the consequences for our everyday personal lives and society as a whole.
For more information on this pioneering and highly exciting endeavour:
http://www.deutsches-museum.de/en/nuernberg/project/
---
The European Commission has just launched the pilot call for the establishment of European Universities. Following up on an initiative launched by French President Emmanuel Macron at his Sorbonne speech in September 2017, the call aims to
"encourage the emergence by 2024 of some twenty 'European Universities', consisting of bottom-up networks of universities across the EU which will enable students to obtain a degree by combining studies in several EU countries and contribute to the international competitiveness of European universities'.
The maximum grant award amounts to EUR 5.000.000,- for an initial period of three years. The application deadline is 28th February 2019.

For more information: https://eacea.ec.europa.eu/erasmus-plus/actions/key-action-2-european-universities_en
SCIENCE LEADS offers support to you and your higher education partners in preparing your application.
Please get in touch: contact@science-leads.com
---
Dr Julia Stamm was featured in the higher education newsletter of the German weekly DIE ZEIT. Her contribution focuses on interdisciplinarity in research.
---
Dr Stamm was invited to speak at the 2018 Horasis Global Meeting "Inspiring the Future" which took place from 5 to 8 May 2018 in the Portuguese city of Cascais. The Horasis Global Meeting aims to be the world's foremost annual gathering of business leaders who interact with heads of governments and key ministers as well as Nobel laureates and other thought leaders. The meeting's purpose is to advance solutions to today's most critical challenges.
Leaders who attended this year's summit included Mohamed ElBaradei, José Manual Barroso, Brice Lalonde, Carlos Moedas and Rajendra K. Pachauri.
Under the panel theme "Creativity in the Unknown", Dr Stamm spoke on future science and the need to foster interdisciplinary collaboration. Co-panellists included Matias Barreiro (Argentina), Türker Bas (Turkey), Simone Kimpeler (Germany), Pete Klupar (US), Venkat Maatory (India), Timothy J. Nichol (UK) and Tom Simmons (UK).

For more information: www.horasis.org
---
Dr Julia Stamm of Science Leads has been appointed as Adjunct Senior Fellow in the Centre for Policy Futures (CFP), University of Queensland, Brisbane, Australia.
Working closely with governments, international organisations, and key stakeholders, the CPF specialises in three policy areas:
- Science, Technology and Society
- Sustainable Development Goals and Capacity Building
- Trade, Foreign & Security Policy
To find out more about the Centre for Policy Futures, please click here: https://policy-futures.centre.uq.edu.au/
---
SCIENCE LEADS is recruiting a Student Research Assistant on part time basis in Berlin (approx. 10 hours/week to start with, with the possibility to do more in the future). The position is to be filled as soon as possible.
For more information and to apply, please send an e-mail to contact@science-leads.com

---
SCIENCE LEADS is pleased to share the announcement of a new social media campaign to be launched on 5 March 2018, an initiative by colleagues from Sustainably Society at Groningen University, The Netherlands.
Worldwide, research budgets for the Social Sciences and the Humanities (SSH) face increasing pressure, partly because the crucial role of SSH research and the contributions it can make to addressing today's challenges is not always well understood. The campaign aims to make the voice of the SSH heard and help convince policy makers and research funders of the importance of investing in SSH research.

What: Social media campaign #SSHare your contribution
When: Starting 5 March 2018
Action: Show why SSH research is important by writing this on the A4 document which you can download via the link below, take a picture and #SSHare it online!

For more information and to download the document: https://www.rug.nl/research/sustainable-society/communication/sshare
---
On 13 October 2017, SAPEA (Science Advice for Policy by European Academies) held a one-day conference, Crossing Boundaries: New approaches for science advice to policy, in Tallinn, Estonia. The event took place as part of the Estonian Presidency of the European Council.
The conference brought together speakers from the academic community, the policy sphere, the private sector, social enterprise and the media to discuss opportunities and challenges of cro-creating solutions to pressing policy issues.
Key messages of the conference were:
International challenges require interdisciplinary approaches.

Social sciences and humanities play a vital role in policy advice.

Collaboration within and across sectors is essential to success.

Citizens' concerns must be understood by scientists and policy-makers.

Scientists must engage with the public, not just inform them.

Creating inclusive communities for shared learning and dialogue is the way forward.
The full conference report is now available: www.sapea.info/Insights1.
Dr Stamm of Science Leads had the pleasure to moderate the event.
---
---
"If we as scientists are not willing to communicate about the importance of science and to advocate for science, who will?"*
Many of today's political decisions have strong scientific underpinnings. Also, policy makers can, and often do, benefit from the expertise provided by researchers. The role of scientists, however, seems to be changing. In the past, researchers tended to support the stance that they should simply lay their knowledge out there and let the public and policy makers decide what to do with it.
In the light of increasing anti-science rhetoric and proposals, however, there is increasing agreement that scientists need to be more visible in the public debate. Increasingly, scientists are viewed - and at times expected - as going beyond merely providing scientific options, taking on more active roles in policy deliberations and actively engaging in dialogue and exchange with stakeholders.
But what does it actually mean to be an advocate for and in science? How to communicate with stakeholders, with the political world? Being an effective science advocate and communicator requires acquiring new skills, in addition to the broad skill set that reseachers have already. To teach the skills and tools for strategic science advocacy is the focus of a new workshop format developed by SCIENCE LEADS.
For further information: contact@science-leads.com
*K.N. Jones-Jamtgaard/C.Lee in: MBoC Perspective 2017, Vol. 8, 2158
---
This was the leading question discussed by a select group of experts (science policy makers, researchers, practioners, research and impact managers), among them Dr Julia Stamm from Science Leads, when they gathered for a workshop in Lisbon, Portugal, on 31 October.
The workshop was organised by the EU-funded Horizon 2020 project consortium Dandelion (www.dandelion-europe.eu). Entitled "Valorisation Activities and SSH Research Ripeness for Impact", participants presented and discussed examples of best practice fostering fruitful exchange between SSH researchers and stakeholders from policy, civil society and business, and, thus, leading to sustainable impact.
For more information: http://www.dandelion-europe.eu/en/news-media/news/dandelion-news/valorisation-activities-and-ssh-research-ripeness-for-impact-dandelion-workshop-.html
---
On 5 October, Dr Julia Stamm of Science Leads and Dr Irina Michalowitz of IM Consult joined forces to hold an evening of exchange and debate around the topic of "Leadership for women" at the Aspen Institute in Berlin. Topics covered included values-based leadership, career strategies, group dynamics, skills development, work-life balance. Our thanks go to the team of the Aspen Institute who kindly convened and hosted the event.
To find out more about our formats and the topics we cover, just get in touch.
---
On 29 and 30 May 2017, the high-level summit GLOBAL SOLUTIONS took place in Berlin, in the context of the German Group of Twenty (G20) presidency. It brought together the world's leading think tanks and over 1.000 participants and 100 Young Global Changers from all over the world. Their common mission: to tackle the most pressing challenges facing our planet and to propose research-based policy solutions to the G20 leaders.
Dr Julia Stamm of SCIENCE LEADS was trusted with the conference management, supported by a great team based at the German capital newspaper Der Tagesspiegel.
For more information on the summit and to read the T20 policy briefs: https://registration.global-solutions.international/
---
In times of eroding trust in expertise and experts and the appearance of 'alternative facts', what is the role for social sciences and humanities in providing scientific advice to policy?

On 25 April, the International Network for Government Science Advice (INGSA), the Stiftung Mercator and the Mercator Research Institute on Global Commons and Climate Change (MCC) co-organised a one-day workshop to discuss the challenges, opportunities and best practices of social science advice to policy.
The role of social sciences in public policy processes is an increasing focus of academic and science policy debates, with regular calls for better integration of social science evidence and expertise in policy advice processes. The challenges, however, are manifold. Hence, reflecting on the societal and political context of science policy advice in general and on the pitfalls and prospects of social science advice is both essential and timely.

You can download the full workshop report here: http://www.ingsa.org/wp-content/uploads/2017/05/Summary-INGSA-MCC-Mercator-soc-sci-WS-Apr-2017.pdf

---
Dr Stamm is proud to join g-read - global research and develop ambassadors - as its Ambassador for Brussels
g-read understand research and development as a global business. We know the global research and development industry first hand. We can map out trends, deepen your collaborative rekationships, and realise individual projects on your behalf. we can even help you to establish local offices - in more remote up-and-coming markets or in the world's kowledge and high-tech hubs. We are also experienced in R&D diplomacy.
For further information: http://g-read.de/

---
November 2016: SCIENCE LEADS supports the first International Symposium on Collective Behaviour Change of the KLASICA network in Taipei, Taiwan

The Knowledge, Learning and Societal Change Alliance (KLASICA), an international Research and Action Alliance, hosted by the Institute for Advanced Sustainability Studies in Potsdam, Germany, held its first international symposium on 21-24 November 2016 in Taipei, Taiwan.
KLASICA is a new international effort using the wide range of intellectual lenses of the natural and social sciences, arts, and humanities to understand conditions that enable or obstruct collective behaviour change and societal transformation to just and equitable sustainable futures and to use the evolving understanding to foster that change.

The Taiwan KLASICA symposium was the first in a series of events intended to advance understanding of and stimulate action on collective behaviour change. Its focus was on studying cases of isolated and island communities in Asia seeking paths to sustainable futures. Dr Julia Stamm contributed her expertise in bringing together international and interdisciplinary researchers and practioners and devising a highly interactive workshop agenda, combined with in-depth case studies and and a results-oriented approach.
For more information on the KLASICA network, its activities and the Taipei workshop:
www.klasica.org
---
Held under the Slovak EU Presidency, the conference took place on 15 and 16 November 2016 in Bratislava, Slovakia.
The conference aimed to illustrate the indispensable contribution that the social sciences and humanities (SSH) bring to the workings of democratic societies and to underline the vital role SSH research has and should continue to have in the EU science policy agenda.
For more information:
http://www.ssh2016.eu/
---
July 6th, 2016 - issue 155, p. 4, Forschung und Lehre

---
Science Leads, based in Berlin and Brussels, and Montroix (www.montroix.com), based in Canberra and Brisbane, are pleased to announce a new collaboration.

Since both companies offer high quality services in similar fields, we have agreed to collaborate to broaden our collective reach and impact and extend our services. Together we now offer to prepare and conduct visits and fact-finding missions for individuals or delegations to some of the most innovative regions on the globe.

We know the research and innovation landscapes in Germany, the broader Europe and Australia. Depending on your institution's strategic objectives, we will identify the right people to meet and the relevant institutions to visit so that you will achieve the intended outcome in the most productive and most efficient way. Based on our expertise and experience, we will organise trips for your delegations, prepare their agendas, set up meetings and, if required, support them on the ground and during their meetings. We offer the complete package to make your international outreach even more successful.
For more information please get in touch: contact@science-leads.com or info@montroix.com
---
---
---
---
---
24 February 2016 at the Representation of the State of Hessen, Brussels

veranstaltungen@lv-bruessel.hessen.de
copyright: Hessische Landesvertretung / Vivian Hertz
---
---
---